Surveys on crane runways and crane geometry
Avoid production stoppages and cost-intensive repair work, prevent breakdowns and detect damage to building structures at an early stage of development. Regular surveys of your crane runways carried out by our specialists help you to ensure maximum reliability in production. Benefit from the reliability and accuracy of our professional surveys, which are conducted by our experienced survey engineers.
Safety all along the line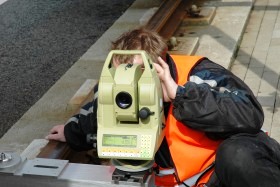 The travel characteristics and, therefore, the optimum availability of your equipment is impaired when specified tolerances are exceeded – which can result in premature wear of the travel wheels, sudden changes in travel speeds and unexpected load sway. Optimum travel properties can only be ensured by perfectly aligned crane runway and crane geometry, which give you the certainty of safety all along the line.
Fast, accurate and reliable
The survey methods that we employ are fast, safe and reliable and can be used for any product – in particular, our internationally patented LMS laser measuring system provides highly accurate survey results. On the basis of a visual inspection, a review of the equipment and the survey results, we assess any possible repair requirements – and recommend cost-effective corrections to eliminate any defects that are found.
More information
Crane runway surveys
Crane geometry surveys
Special surveys
Downloads