Services
Our aim is to enable you to concentrate fully on your core business by giving you the certainty that your equipment operates with maximum reliability and efficiency.
Our objectives are
Maximum availability of your equipment
Cost-effective operation
Maximum safety and reliability
Efficient utilisation
Sustainable maintenance of your investment
Highly qualified and trained staff for maximum service quality.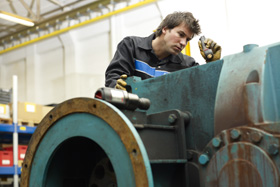 Our service consultants support you with a wide range of industry-specific expertise to create a service strategy individually tailored to your business needs. Demag Cranes service engineers are extensively trained and receive continuous further development to maintain their professional edge. The result is extremely high-quality service support from a single source.
SERVICE PORTFOLIO
From commissioning through to modernisation or refurbishment of your equipment, we are ready to help at all times. All of the services we provide are specially designed to meet the needs of the industrial crane sectors – to achieve the maximum efficiency of your equipment. This also includes a comprehensive training programme.
You can decide for yourself how much service you want to have, and also whether you opt for ad-hoc service work to be provided as required, or longer-term service packages.
Our service covers the entire product life cycle.