Safety inspections of crane installations, winches and hoist
Regular safety inspections are not only decisive for the safety of your plant and equipment – they also extend product service life as damage and wear can be detected and rectified in good time.
Legal compliance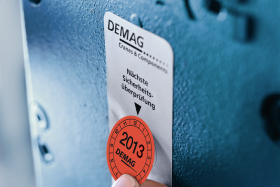 We carry out the regular visual inspections and function checks as required by relevant regulations. At the same time, we check whether your plant and equipment is in a safe operating condition at the time of the inspection.
Scope of services
Examination of equipment for compliance with the data in the test and inspection booklet
Examination of the condition of components and equipment regarding damage, wear, corrosion or any other changes
Examination of the hoist unit to calculate the elapsed share of its theoretical duration of service (safe working period (SWP) check)
Examination of safety devices and brakes to ensure they are complete and effective
Operating function and brake test with a load for the maximum permissible load capacity
Examination of name plates and signs to ensure they are complete
Documentation of test results
Safety assessment for commissioning or further operation
Decision on follow-up inspection
Completion summary meeting/ reporting